Our services
Ninh Binh Tour :Cycling fun tour
We organise cycling tour and bikes rental services. Good bike , good plan , good services, cheap price!!!
Tour 1 : Ninh Binh Exploration in 2 days:
Departure:Ha Noi
Return To:Ninh Binh
Duration:2 Days / 1 Night
Destination To Visit:
Ha Noi --> Ninh Binh --> Tam Coc --> Hoa Lu --> Cuc Phuong --> Ha Noi.
Ninh Binh Province is endowed with various natural landscapes, historical sites and ideal locations to take a
tour
from the capital of Ha Noi. Coming to Ninh Binh, guests could visit numerous amazing spots such as Hoa Lu Ancient Capital, Tam Coc – Bich Dong, Cuc Phuong National Park, Van Long Natural Reserve, Phat Diem Stone Cathedral, via car, boat and bike as means of transportation.
- Bike
- Entrance fees
- Support truck
- All meals on tour
- Guide
- Private car
- Overnight accommodation(twin/double sharing)
- Personal expenses
- Drinks
- Insurance

Tour Program
Day 1: Ha Noi - Hoa Lu - Tam Coc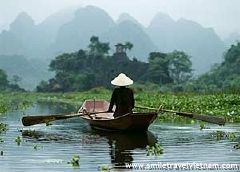 Heading south from the hotel in Hanoi at 08:00 AM, we would arrive at Hoa Lu at 10:00 AM. After leisure time and visiting the two temples honoring King Dinh and Kinh Le, cyclists would take the bikes to ride about 10 kilometers to reach for Tam Coc. Stopping for lunch and boarding cruise to visit Tam Coc which is regarded as Ha Long Bay on land from 13:00 to 16:00. Then we would land, getting on pick-up car to Cuc Phuong National Park. Prepare for overnight at Cuc Phuong and fire party by the lake could be set up on your request with strict safety requirements.
Day 2: Cuc Phuong - Ha Noi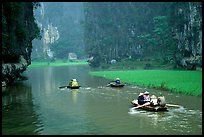 After breakfast, we start trekking up to observe hundred year old trees, many animal species and full ranges of butterflies swaying. Then we would get back to the Park Center, taking the ride to prehistoric man cave with break for lunch in the forest. Afternoon time would be chance for guests to cycle to endangered Species Center before bidding the farewell to Cuc Phuong at 15:30. Supposed time for Ha Noi arrival is 18:00 and ending the services.
Tour 2: Ninh BinhFull day exploration:
Ha Noi -Ha Noi
Duration:
1 Day / 0 Night
Destination To Visit:
Ha Noi --> Hoa Lu --> Tam Coc --> Bich Dong --> Ha Noi
Locating in Ninh Binh Province, Hoa Lu used to be capital city during Dinh Dynasty during AD 968 and AD 980. Coming to this former citadel, besides historical sites, astounding natural beauties of limestone mountains would dazzle all the guests. Many passengers would have the feeling of explore Ha Long Bay on land.
Tour Program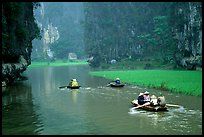 Departing from the hotel at 08:00 AM, passing 130 kilometers drive we would arrive at Hoa Lu, Ninh Binh Province. The first stopover is temples of Kinh Dinh and Kinh Le who devoted their lives to against Chinese evaders in the past. After that we would pass through green mountains and paddy field to reach Tam Coc then stopping for lunch break.
After that we would take the bamboo boats to discover natural beauties blended with green field and mountain ranges. For three hours of rowing, we leave boat to drive to Bich Dong pagodas for stunning complex of pagoda built on the cliffs. Keep trekking to the top of pagoda then moving down to the waiting car. Return to Hanoi Capital and finishing the tour when dropping you off at the lobby of hotel.
Please check our sites for more infomations Visit our friend site for more options of Vietnam Tours